Nancy Friedman
The Telephone Doctor
Keynote Customer Service Speaker
You're on the Right Page for Customer Service
The Gold Standard of Customer Service
Yes! Send Me More Info
Laugh and Learn Skills
that Last a Lifetime
Nancy is an expert on customer service, communication skills and sales. She is a sought-after keynote customer service speaker at annual conferences, franchise and corporate meetings – both large and small. Her programs are inspiring, motivational and entertaining (See testimonials) creating a memorable session all attendees can use immediately and forever. Fun, distinctive, fast paced, and energy filled, this customer service speaker's fast wit and laugh-out-loud audience participation has everyone wanting more. Labeled a "don't miss" session, Nancy always delivers the 'goods.'
Services Offered:
On site programs for Conferences and meetings for Association and Corporations – Large & Small Groups KEYNOTE or WORKSHOPS (See Program Options)
Audiences laugh and learn from the Customer Service Expert
Get valuable content while being entertained
Motivating, inspiring, content driven
Named by Meeting & Conventions Magazine as favorite speaker
Customer service, communications skills, sales are her passion
Telephone Etiquette/Skills - our specialty
Communications for face to face situations
External and Internal Customer Service
Sales for the seasoned or the beginner
Happy Audience
Your teams will laugh while they learn
Dynamic and Entertaining
Nancy works within the entire audience – no podium no PowerPoint®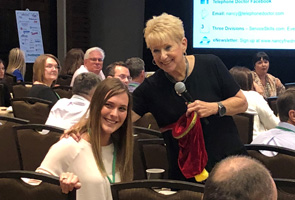 Motivating and Heart-Felt
Nancy's passion motivates everyone to join her in the fun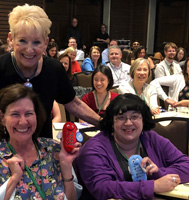 Results-Oriented
A customer service program delivering real life tools that you can use immediately and forever

Choose from our Most Popular and Requested Customer Service Keynote or Workshop Programs
Customer Service Books
Customer Service (finally) Defined
Hidden Gems: Build Customer Relationships and Close More Sales
50 Tips the Make a BIG Difference
54 Gold Nuggets
Customer Service Nightmares!
The Good, The Bad & The Ugly
How to Get Your Customers Swearing BY You, Not AT You
"You crushed it as our keynote speaker this year, Nancy!! Our Franchise Partners are still laughing – can't thank you enough. They LOVED you."
"Nancy, listening to you was amazing, inspirational and mind blowing! I could have listened to you for hours!"
"You are an amazing presenter. I have never seen anyone with your energy your comedic timing and mastery of the topic at hand."
"Our franchisees loved her. Nancy gives so much relevant information in a fun and entertaining way. It was the  best decision we could have made for our convention."
"Two years in a row; two standing o's and the only Female speaker ever at our Sales Boot Camp – Nancy rang the bell with her heart felt message so in tune with our audience."
"More business is lost to poor service & poor treatment than poor product."
-Nancy Friedman, Customer Service Speaker
Why Wait? Get More Information on Nancy for your next Meeting. 
314.291.1012
30 Hollenberg Ct.
St. Louis MO 63044